Sedona Tennis
Sedona has ten tennis courts that are open to the public and can be used free of charge. All of the courts are medium-speed hard courts in excellent condition and surrounded by extraordinary scenery.
Sunset Park (map) has two tennis courts that are always available on a first-come basis. A playground, basketball/pickleball court, Splash Park, grass field, and very short nature trail, as well as picnic ramadas and bathrooms are all within 150 feet of the courts.
One or both courts at Posse Grounds Park (map) are reserved for several hours each week for lessons or pickleball; the reserved hours are posted on the court doors. Posse Grounds has lights, but most adults over 50 find it difficult to track balls that are moving at the speed advanced players hit. The park has bathrooms and a playground a couple of minutes walk from the tennis courts as well as softball fields, a soccer field, a basketball court, a sand volleyball court, a dog park, a mountain-bike course, a skate park, and a medium-short hiking trail with excellent views.
The six courts at Sedona Red Rock High School (map) are open to the public after school and whenever school is not in session. The tennis teams usually fill them after school from February through April, but otherwise, you can almost always get a court there without waiting. You will usually not have access to a bathroom.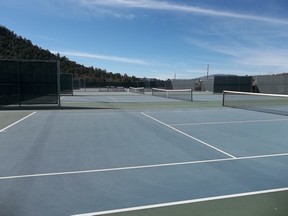 Sedona and the Village of Oak Creek also have several clubs, resorts, and neighborhood associations with tennis courts that can be used for a modest fee.
Sedona has more than 100 hiking trails, almost all of which offer incredible views and interesting vegetation ranging from huge cottonwood trees along the creeks to cacti and junipers away from the water. Hikers can choose from short, easy trails to all-day hikes with major changes in elevation. Many trails are also open to mountain bikes, horses, and motorized vehicles. Most of the biking trails are fairly rough, and some are quite technical, but a few trails are reasonably smooth and easy.